How to Properly (and Professionally) Send Your Resume via Email
Last updated: September 16th, 2022
5 Professional, Thoughtful and Simple Ways to Get Your
Resume Noticed via Email
Hiring Managers view the effort you put into a job application (resume, cover letter, email format and content) to be a direct reflection of the effort you'd put into the job. If you're lazy or skip the details when it comes to sending your resume out for consideration, what other shortcuts would you take if hired?
Here are 5 things to look out for when sending a resume via email for consideration of an open job position.
1. Always attach your resume as a document.
Everyone utilizes technology in a different capacity and at
a different pace. Rather than sending a
link to your resume, simply attach it as a file. It's much easier for a hiring manager to go
the traditional route to find your resume.
Try this: Instead of including a link to your dropbox
account, include a link to your website, blog or online portfolio
and showcase your work. Proof of capabilities speaks volumes and is a great way to get noticed.
2. Name your documents appropriately
Sending a resume with a generic title like "Admin (1)" tells
the hiring manager a couple of things; you have a few versions of your resume and aren't ashamed of it, as you shouldn't be. However, it's one of those unspeakables, like when your parents assumed you did something as a kid, but you never officially talked about it. This also means you probably embellished
certain parts of it, in this case, the administrative duties. The parenthetical
"(1)" could throw people off—not to mention the misspelling of "ad" in the
first sentence.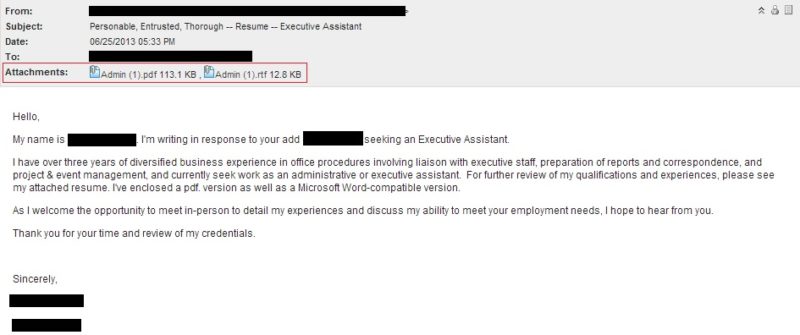 Try this: We encourage candidates to have several versions
of their resumes available to send out for specific jobs. For example, if you are an admin who did a
lot of office management work in addition to your admin duties, you should have
two versions, one highlighting admin-heavy tasks and another highlighting
office management tasks, and even a third which incorporates both. Each resume is specific to a job opening. For example, if an employer is looking for an office manager, send the resume which highlights your management experience. Rename
your resumes with something simple and generic when you're sending them
out. Last
Name, First Name Resume works for us.
3. Include a cover letter…
Try this: Include a short paragraph as a semi-cover letter
that explains why you want the position in question. Always use a sign-off
phrase that's professional, like, "Sincerely," or "Regards," and your full name, properly capitalized, with a phone number where you can be easily reached.
4. …that's easy to read!
While fun fonts can show personality, readability is the
priority. Avoid colored fonts, and proofread! A cover letter is the first point of contact, and it should be perfect.
Try this: Use a basic font like Times New Roman or
Helvetica, and a size that's at least 10pt but no larger than 14pt. Black fonts always look neatest. You can infuse your personality in the actual
verbiage of the cover letter; content is more powerful than aesthetics.
5. Don't state the obvious
Obviously, you're interested in the Virtual Assistant
position, and obviously, because of that fact, you are attaching your resume,
and obviously, (you hope) we will review it… Obviously, it was sent by you with five periods, your first name, last name and an emoticon, you know, just for good measure.
Try this: Why are you interested in the position? What
interesting information can a hiring manager learn about your resume (are you
certified in anything? Do you have any special skills?) Sign off from your
email professionally. Include your first name and last name. Emoticons are for texting, not for trying to get a job.
Find Your Executive Assistant Now
If you're interested in hiring an executive assistant, personal assistant, office manager, or other support staff, we can make finding the perfect candidate fast and easy. Contact us to get started.
Find My Assistant